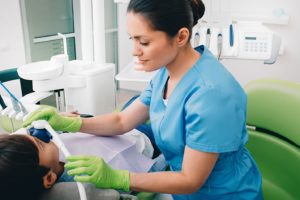 If your child is feeling a little unenthusiastic or uneasy about their upcoming dental visit, you might be wondering if there are any solutions for ensuring that their visit goes as smoothly as possible. Sedation dentistry is often used to achieve this, and of these treatment options, one of the most common solutions is nitrous oxide, also called "laughing gas." Here are three essential things that you should know about nitrous oxide so that you can rest assured it's a viable answer for your child's needs.
1. It's Gentle, Safe, and Won't Put You to Sleep
Despite its nickname, nitrous oxide will not make your child begin laughing uncontrollably—although they'll certainly feel calm, euphoric, and completely at ease! The gas is safely and gently administered with a mixture of oxygen through a nasal mask, and the amount of nitrous can be adjusted throughout the appointment as needed. Nitrous oxide will not put a patient to sleep like general anesthesia would, and your child will remain awake and totally responsive to verbal commands throughout their visit.
2. The Effects Kick In & Wear Off Quickly
Even though there are other sedation options out there, one major perk of opting for nitrous oxide is the brevity of the effects. Effects are felt within minutes of being administered the gas, and they diminish shortly after the mask is removed. Your child won't have to deal with any lingering hangover effects and will quickly begin feeling back to normal by the time you're heading home!
3. It Has Many Benefits Outside of Addressing Dental-Related Anxiety
Although most people turn towards sedation dentistry for combating dental-related anxiety, especially in younger patients, nitrous oxide has many other practical applications. It's also ideal for patients who struggle to remain seated for long periods of time or patients with mouth mobility issues. It also helps your dentist perform longer, complex, or multiple procedures in a single visit. Ultimately, it makes things smoother for both the patient and the dentist!
Nitrous oxide is gentle and can safely be used on children and adults—in fact, it's been used for over 200 years in the medical world! You can rest assured that it's a great option for your child if they're dreading their upcoming dental visit.
About the Author
Dr. Matt Strumpf received his dental doctorate from Midwestern University and completed his pediatric specialty training at the University of Illinois Chicago. His practice in Inver Grove Heights is thrilled to offer a wide range of pediatric dental services. If you have any questions about nitrous oxide sedation or need to schedule a visit for your little one, don't hesitate to contact the practice online or by phone for assistance: (651) 450-6111.