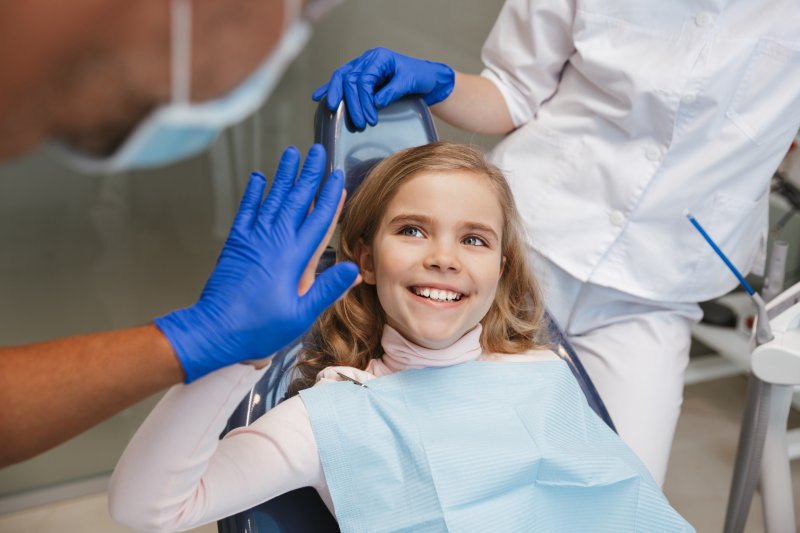 Is your child in need of a dental crown to protect a damaged tooth? A dental crown is a "cap" that is placed over the chewing surface of a compromised tooth to keep it safe and improve its appearance. They can be placed on a tooth that is broken, decayed, has a large filling, or otherwise compromised. However, you may be concerned about whether or not it will be uncomfortable for your child. Here's what you should know.
Does Getting a Dental Crown Hurt?
The very first step before your child's procedure begins involves their dentist numbing the area with a local anesthetic. Ultimately, they shouldn't feel any pain throughout the duration of their treatment. The anesthetic will wear off gradually afterward, so they won't be able to feel the area for a few hours. Ultimately, they should feel perfectly comfortable during their procedure.
Because the affected tooth is altered during the crown replacement, they may experience some tenderness for a few days afterward. Fortunately, this is mild and temporary. Most of the time, an over-the-counter pain reliever is sufficient for managing sensitivity during this time. Because dental crowns protect damaged teeth, they can help reduce any pain that your child had been experiencing before.
What Are the Benefits of Dental Crowns?
Dental crowns have a variety of advantages. Here are just a few of them:
Relieves Pain: If your child's tooth has been damaged by decay or an injury, they are much more likely to experience pain or discomfort when it's exposed to outside temperatures or pressure. Dental crowns cover and protect the tooth from these sensations and therefore reduce the overall discomfort of a troubled tooth.
Improved Appearance: Crowns can improve the appearance of teeth by correcting discoloration, staining, chips, and other cosmetic issues. They can be customized to be the exact size, shape, and color needed to blend in with the rest of your child's teeth.
Quick Process: Having a dental crown placed only takes a few weeks to complete. It is a pretty simple and painless procedure that usually requires only two appointments.
If your child needs a dental crown, you can assure them that there is nothing to fear. With modern dental techniques and technology, their smile will be good as new in no time!
About the Author
Dr. Matt Strumpf earned his dental doctorate from Midwestern University before going on to complete his pediatric specialty training at the University of Illinois Chicago (where he served as Chief Resident). He also graduated with a Master of Oral Science degree and is a member of the American Academy of Pediatric Dentistry. When little teeth are in trouble, Dr. Strumpf is the hero children and parents can rely on to save the day! For more information on kids' dental crowns or to schedule an appointment for your child at his office in Inver Grove Heights, visit his website or call (651) 450-6111.