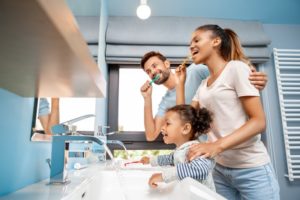 Your child's smile is important to you so keeping it whole and healthy is a top priority for you. Unfortunately, your little one may not feel the same! Since brushing and flossing can seem more of a task to children, it can help to make these essential dental practices more fun. This will help them to be more consistent in caring for their smile and help to build good lifelong habits. Read on to learn five ways to make your child's dental care more fun.
#1: Let Them Choose Their Toothbrush
When your child is involved in picking their own toothbrush, it helps to engage them more in their oral hygiene routine. Nowadays, there are so many different ones on the market to appeal to children. From fun, unique colors to animated characters, your little one is sure to find one they love!
#2: Get Fun Flavors of Toothpaste
Gone are the days of having to just stick with mint-flavored toothpaste. There are now so many options! Your child's tastebuds can be happy while they clean their teeth with flavors like bubble gum, grape, and watermelon. As long as it has the ADA Seal of Approval, it will be tasty and effective in keeping your child's smile clean!
#3: Create a Dental Care Playlist
Music makes everything more fun, including dental care! By making an engaging playlist of your child's favorite songs, you can transform their oral health routine into an exciting activity. Since it is recommended to brush for at least two minutes, a playlist will also help your child to achieve the optimal time for clean teeth.
#4: Use Kid-Friendly Flossers
Let's face it—flossing isn't the most fun thing to do, even for adults! By giving your child a flosser that is geared for their age, they will be more likely to do it. GumChucks is an excellent kid-friendly option, with fun characters and trading cards to make cleaning between their pearly whites more enjoyable.
#5: Develop a Reward System
Motivation plays a big part in your child's life. If they know there will be a reward for good choices, they are more likely to make them. By creating a chart to track their consistency, it will not only give them a visual of their progress but a desire to achieve their goal. Once they have brushed and flossed for a set amount of days, they can pick a special prize to crown their achievement of a healthy smile!
About the Author
Dr. Matt Strumpf and his team at Mighty Molars Pediatric Dental help to keep the little smiles of Inver Grove Heights whole and healthy. He earned his dental degree from Midwestern University and completed his pediatric specialty training at the University of Illinois Chicago, where he served as Chief Resident. With a focus on making your child's dental visit fun and enjoyable, he offers a comprehensive range of services to children of all ages, from infants to teenagers. To schedule an appointment, contact him through his website or call (651) 450-6111.